Modern sales leaders look for every advantage they can find. They devour data, utilize analytics, understand the importance of training, and most of all, they leverage technology to help their sales teams sell more, sell faster, and sell better.
The Problem with Sales Technology
There are several obstacles the keep most sales leaders from taking the plunge and getting their sales team the technology they need for optimal success. The shear amount of sales and marketing technology software available in 2019 alone is enough to make most sales leaders want to reconsider their career choices!
Below is chiefmartec.com's Marketing and Sales Technology Landscape Supergraphic showing the available option on the market today. The bottom line is technology can be a little intimidating.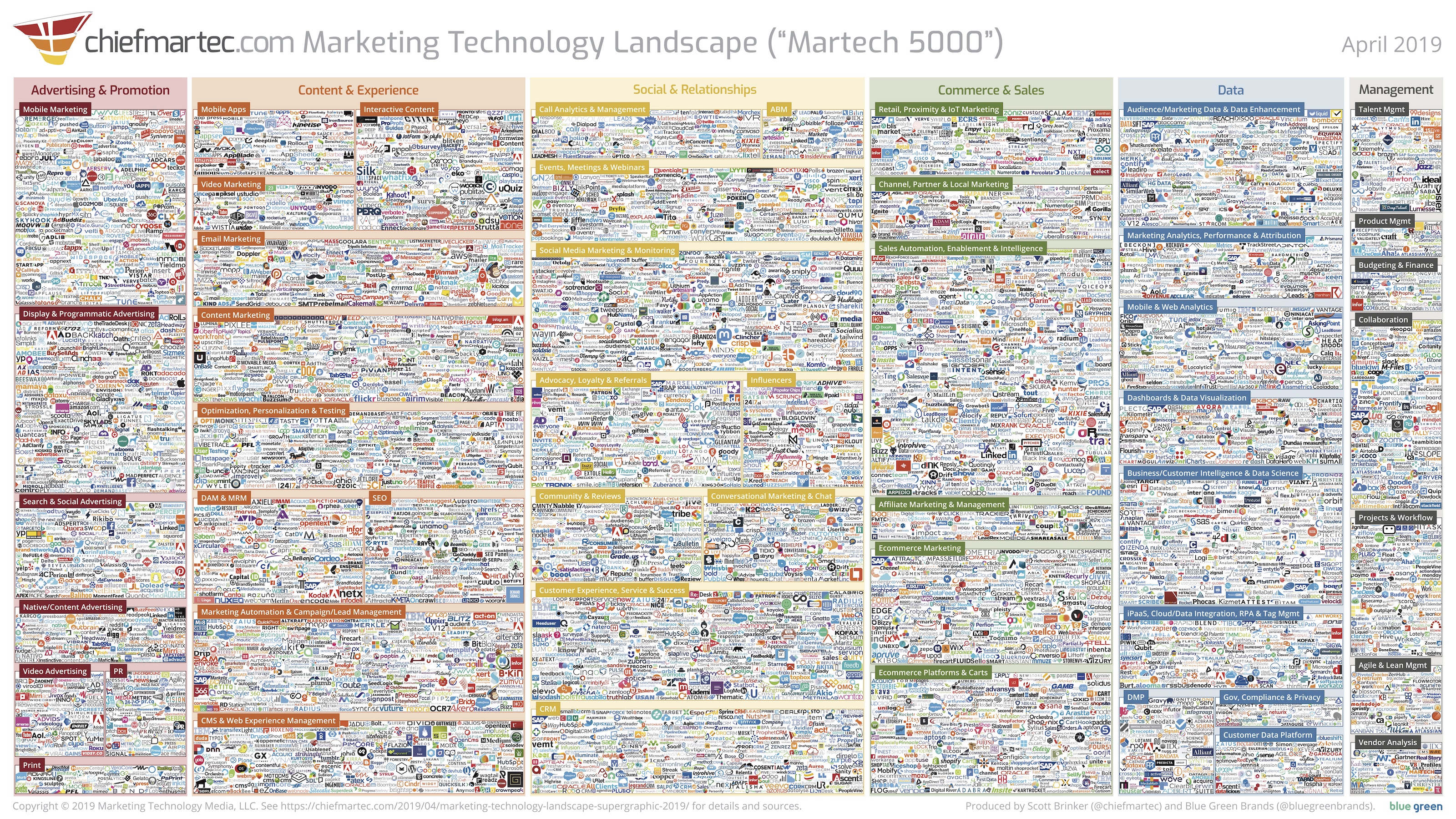 The overwhelming amount of choices is just one the tip of the iceberg. Some sales leaders struggle with budget, other wrestle with the time and expertise required to implement the technology, and most struggle with adoption.
All that being said, getting the sales team "bought in" and using the technology is always the biggest hurdle. Sales reps fear the new technology will be difficult to learn, hard to use, time consuming, and that using the technology will actually hinder their ability to hit their quotas.
"Sales Reps Spend Less Than 36% Of Time Selling (And Less Than 18% In CRM)" - Forbes.com
Okay, now that we gave you an anxiety attack, let's get realistic. There's too much technology out there to know about all of it. Don't let FOMO (the fear of missing out) keep you from making a smart decision.
At the end of the day, you need sales enablement tools for your team. Here's the short list of what you should look for:
Affordability - Do the sales tools fit within your budget? This should include any third-party implementation costs as well.
Quick to launch - Typically, if it takes more than 60 days to launch you'll start losing the confidence and the early "buy in" you had when you started.
Easy to learn - The more intuitive the tools are to use the better. A short learning curve is important. Find quick ways for your team to win and so will you.
Easier to use - If they're easy to learn and even easier to use, the better chance you'll have getting your sales team's buy in and full adoption.
Scalable - Your sales tools should have native integrations with other tools in your tech stack, like the CRM, chatbots, marketing automation platform, and service tools. You definitely want a pay as you grow model to ensure the maximum return on investment.
The HubSpot Growth Suite (Sales, Marketing, and Service tech stack)
This is why we love the HubSpot's Growth Suite! HubSpot has literally checked every box with their "pay as you grow" model.
The HubSpot Growth Suite will work for small businesses all the way up to enterprise level sales organizations and solves for everything a modern sales organization needs.
HubSpot CRM - The CRM is the heart of every modern sales machine. It allows businesses to collect, organize, analyze, and take action on sales and contact data. HubSpot CRM is always free (up to 1 million contacts) and grows in effectiveness as you add sales, marketing, and service tools.
Sales Tools and Automation - Connect with more leads and close more deals. Schedule and track emails, record calls, automatically book meetings, have conversations with customers 24/7/376, track deals, automate your sales pipeline and much more.
Marketing Tools and Automation - HubSpot has one of the most comprehensive marketing platforms in the industry. It has everything any marketing teams needs from email marketing, blog and content creation, social media posting and advertising integrations, SEO tools, CTAs, landing pages, video hosting, attribution reporting, A/B testing, and comprehensive marketing automation just to scratch the surface.
Service Tools - For growing service teams to create support tickets, integrated conversational bots, knowledge libraries, and complete customer service automation.
Introducing the Sales Tools that Help You Grow Better
So, let's get to the point! Let's talk about why we love HubSpot's sales enablement tools. We think you'll fall in love with them the same way we did... one tool at a time! There's huge value in every tool in the Sales Hub from the Free version to Starter to Professional, all the way to the Enterprise level. Each level unlocks greater functionality from each tool.
HubSpot Email (Tracking, Logging, Scheduling, and Templates)
Would you like to know when a prospect or customer opens an email you sent them the second they open it? Now you can! HubSpot will notify you with an alert on your desktop browser or cell phone the instant it happens.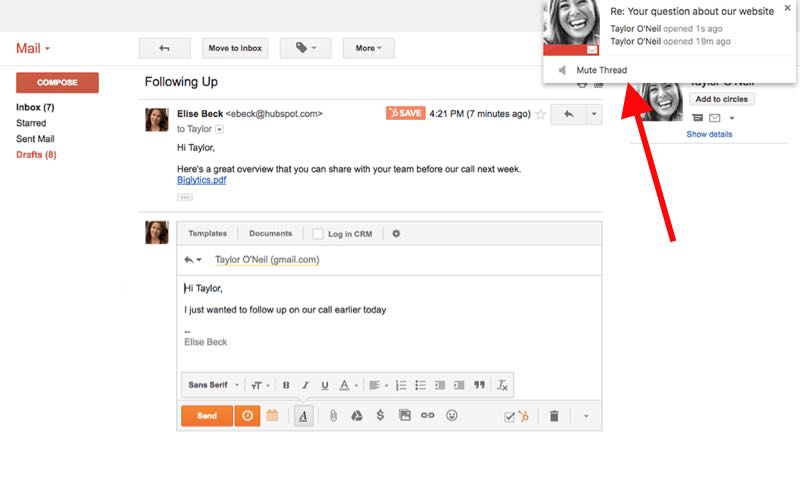 Sync your Google or Outlook 365 Calendar and Email with HubSpot and every email interaction can be tracked, recorded and organized automatically in your Contacts timeline. Spend less time looking through emails to follow up and more time responding to prospects and customers that are actively engaging with your emails.
You can even create an email and schedule it to send at a later time. Let's say, you created your follow up email at the end of the day or after business hours. You don't want to hit the send button only to send it to your prospects inbox and be buried under the rest of the email they get before they open their inbox again.
HubSpot allows you to schedule your emails to send at the appropriate time and date to ensure the highest possible open rates and response.
If your sales reps lack creativity or you just want to keep a consistent brand voice or employ best practices, HubSpot allows reps and managers to create email templates out of commonly used emails that are sent during the sales process. Templates can be customized before every send with personalization tokens, snippets (short cuts to most typed sentences), insert documents from the document library, and even automated meeting links.
HubSpot Conversations (Live Chat and Chatbots)
Conversations is what HubSpot calls their chat tools. Conversations comes with both live chat and chatbot functionality. Since instant messaging is fast becoming the preferred method of communication between business and their customers, the Conversations tool in HubSpot is super valuable to any organization.
People have come to expect answers to their questions immediately and HubSpot's Conversations tool delivers. The combination of live chat and chatbot functionality allows your business to be on point 24 hours a day, 7 days a week, 365 days a year!
Using the chatbot function allows business to quickly engage, qualify, and route leads to the right sales reps in an instant! You can even use HubSpot Conversations to automatically book and schedule meetings with potential customers.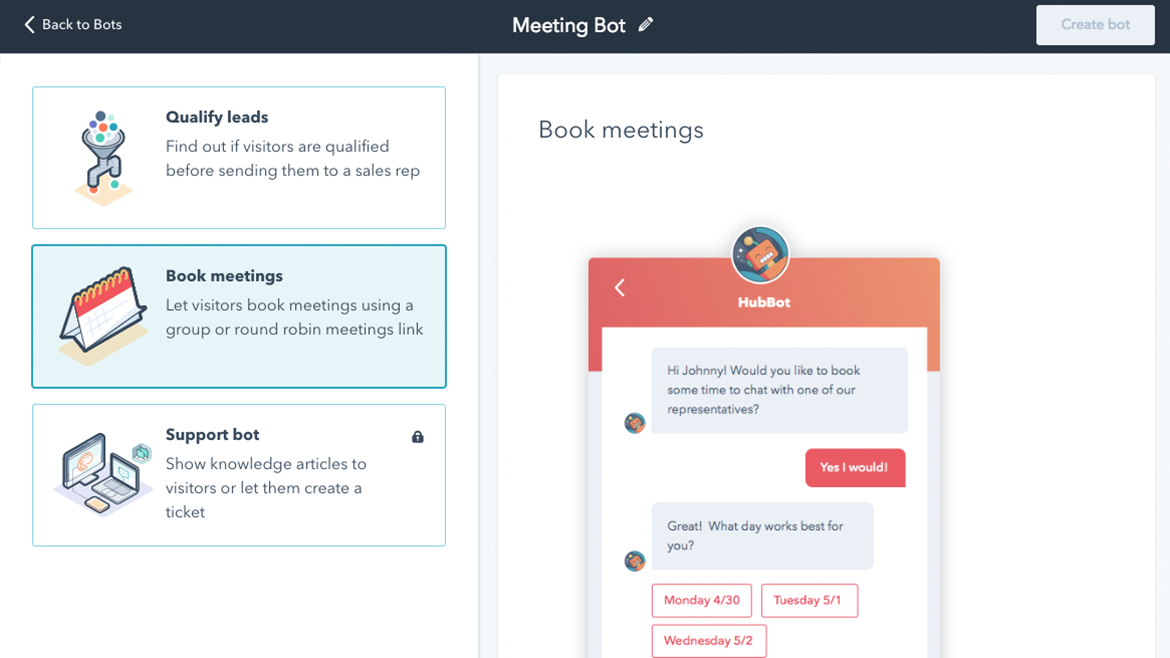 When used in collaboration with the CRM the conversation and all of the qualifying fields can be pushed into the HubSpot or even the SalesForce CRM triggering sales or marketing workflows.
Using chatbots to engage and qualify visitors are making on-page forms less and less effective. With a chatbot or live chat you get instant answers to your questions instead of filling out a form and waiting for an email or call from a sales rep.
The biggest benefit for any sales organization when using HubSpot Conversations is a much shorter sales cycle. Instead of the usual time consuming back and forth after a prospect fills out a form, Conversations allow you to qualify and close within days, not weeks. Think about it... the shorter your sales cycle is, the higher your sales conversion rates will be.
HubSpot Calling (Outbound Call Recording)
Sales managers and sales reps alike will love HubSpot's Calling feature. This feature allows reps to make call within a couple clicks of the mouse, directly from the CRM contact record, and right from the sales reps browser, desk phone, or cell phone.
All of the calls made from HubSpot's Calling feature can be recorded and stored in the Contact timeline in the HubSpot or SalesForce CRM. This allow the sales rep to focus on the call instead of feverishly taking notes. Post call, the rep can review the call and then type any notes in the CRM call log.
The Free version comes with 15 minutes of calling per month, Starter unlocks 8 hours of calling per month, the Pro plan comes with 33 hours per month, and the Enterprise version which we recommend for any organization with 10 or more sales reps has unlimited calling.
Sales Hub Enterprise also comes with call transcripts, for sales reps and manager who would rather read the transcript or copy and paste any pertinent notes.
The ability to listen to calls or read transcripts is a huge benefit for pro-active sales leader who want to actively coach and train their reps for peak performance on calls.
HubSpot Tasks (Automation and Queues)
It's not uncommon for a sales rep's follow up emails, calls, and "to-do"s to get overlooked as the events of the day unfold takes control of their time. Day after day, prospects, leads, and customers are getting overlooked as well.
HubSpot's Tasks tools help a sales rep manage their time more efficiently and effectively at scale. The Tasks feature in the HubSpot CRM allows sales reps to see their daily tasks in one easy to use dashboard.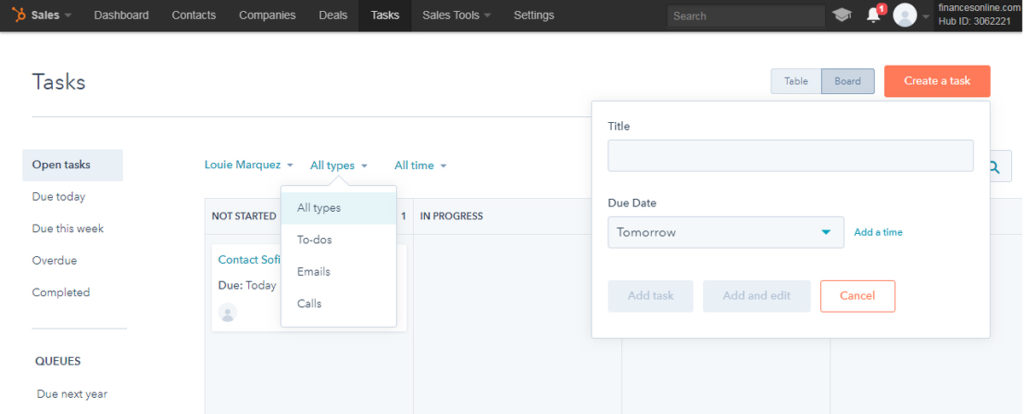 Sales reps can manually add tasks to their lists or tasks can be added automatically when specific actions are taken by a lead so follow-up's are never overlooked. When a task is due, the sales rep can even get automatic reminder notifications or emails.
For the sales rep on the go, Tasks can even be created from the HubSpot mobile app!
To make the Tasks feature even more useful, sales reps and managers can create custom queues that help them to filter and manage their task lists at scale. They can even start their day with a view of tasks that need to be accomplished that day.
Combine that with the HubSpot Calling feature and reps can sort their tasks by "phone calls" and literally dial one by one, right from the Tasks dashboard.
HubSpot Sequences
Think of Sequences as the sales reps version of email automation that can be highly personalized. Reps can manually enroll a prospect or customer into an email Sequence designed to drive an action like a response or a booked meeting.
Once the action is taken, the sequence is ended and that can even trigger a new workflow, automated task, or other action by the sales rep.
HubSpot offers sales managers and reps the ability to design an email sequence from scratch or use one of their many goal specific templates for best practices. All of the templates can be customized and personalized with tokens pulled straight from collected CRM properties.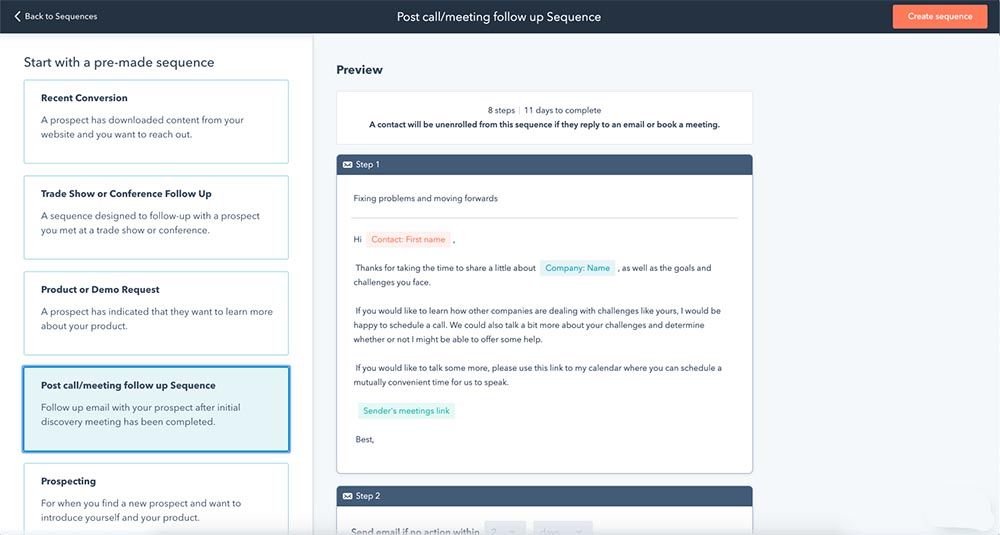 Sequences combined with Tasks automates the cadence of communication from the sales rep to the prospect ensuring that no lead dies prematurely from a lack of communication.
HubSpot Meetings
Probably one of our favorite sales enablement tools is HubSpot's Meetings tool. Meetings is exciting because it literally eliminates the need for back and forth emails to find time for a call, meeting, or demo. Meetings allows your prospects or customers to book a time with you based on your calendar availability at their convenience.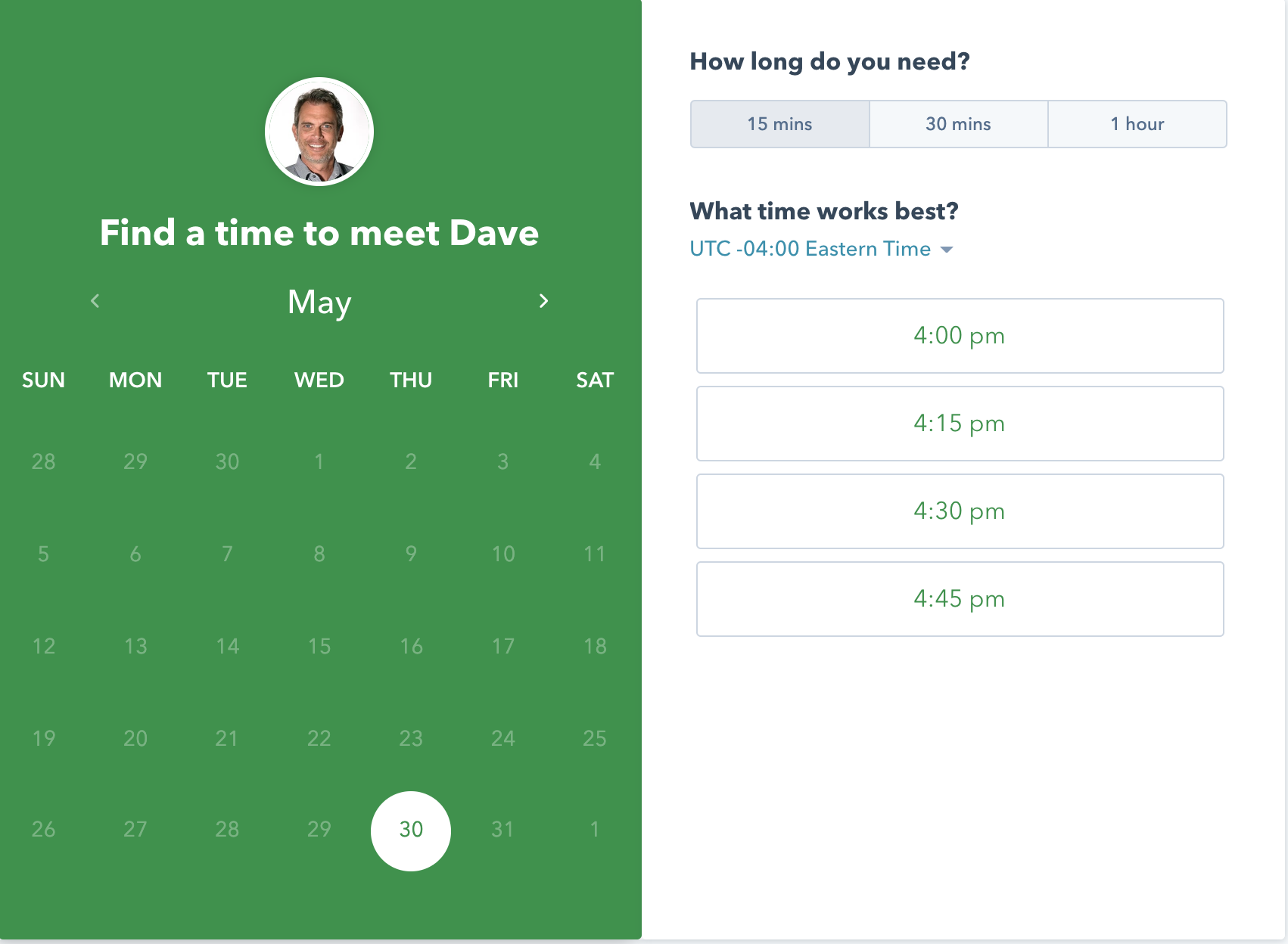 Meeting calendars can be customized for individual sales reps or teams for meeting length, type, and duration. You can integrate with video meeting apps like Zoom to automatically create links and calendar invites once the meeting is booked.
We really love the ability to add "Schedule a Call" links in our email signatures and Meeting CTAs on our website, in our blogs, and our marketing to book more meetings and create more opportunities to sell to leads with real intent.

1:1 Video Creation
Sales is about building trust and there's no better way to build trust than through transparency and there's nothing more transparent than sharing a 1:1 personalized video you made for your prospect or customer.
Prospects are more likely to respond to a short personalized video rather than an email. Do you trust faceless block of black and white text more than a real-life smiling person giving you advice?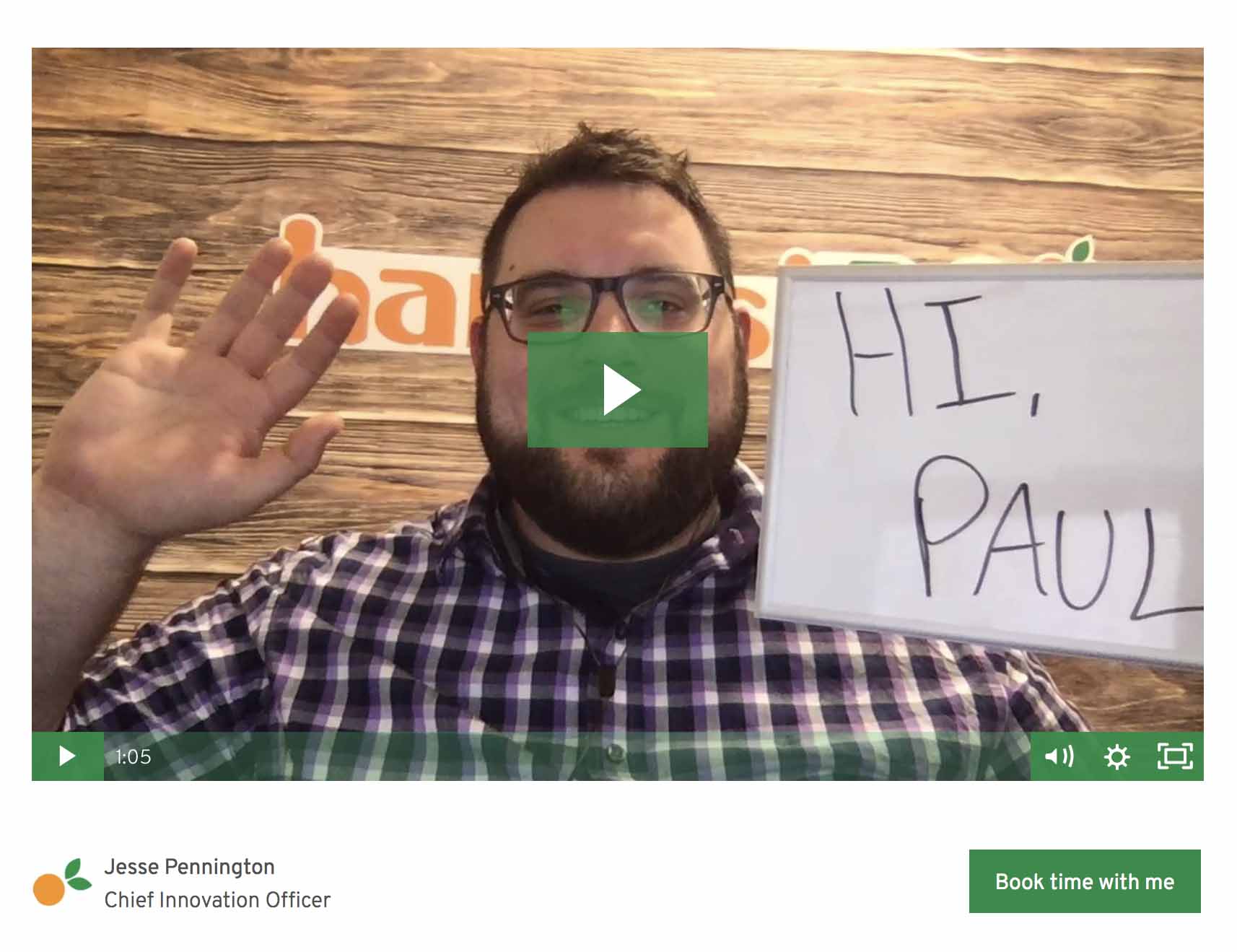 In HubSpot you can easily create and send one-on-one personalized videos right from the the CRM. HubSpot has built Vidyard's browser extension right into the CRM.
Starting with a single click in your HubSpot, Gmail, or Outlook 365 email interface you can quickly record your screen and voice, and use your computer camera to record yourself. You can then edit and send your video directly to a prospect via email.
The prospect can then click the video image and jump to an automatically created, branded landing page where they can watch the video. Each video email send will get logged in the CRM, and you'll know when prospects open and click. Video platforms like Vidyard and Soapbox will also show you data on if your prospect watched the video and for how long.
HubSpot Playbooks
If you're in sales, you know you can never be too prepared for a sales conversation. With playbooks your entire team will have the right words every time.
Using the HubSpot Playbooks tool, you can create call scripts that can be fired directly from a Contacts window so your sales reps ask the right questions every time. The Playbook also allows the sales reps to collect information by filling in a text field or simply clicking on pre-selected option buttons.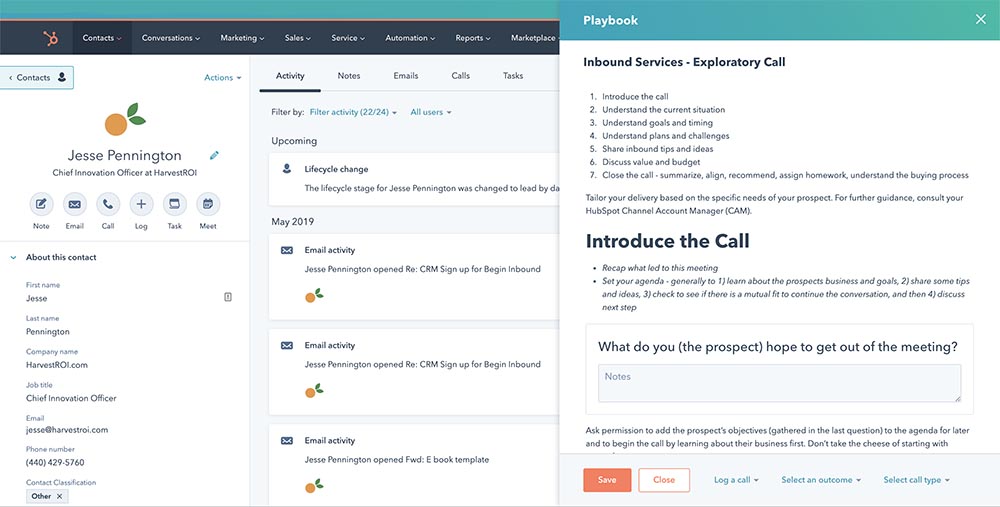 The Playbook helps your sales reps stay on point and consistent with your brand voice. What makes this tool even better is that the completed Playbook is added to the Contact timeline and all of the qualification information collected is stored in the CRM for future segmentation, lead nurturing, and re-marketing.
Sales scripts enable your sales reps to be more prepared and helpful on every call. By using HubSpot Playbooks in your sales process you can get your new sales hires up and trained faster than ever.
If your'e on the HubSpot Sales Enterprise platform, you can create up to 1,000 individual Playbooks that can be customized for sales stage, product, customer type, and more. Whatever you sell and whoever you sell it to, there's a Playbook with their name on it!
HubSpot Deals (Pipeline Management and Sales Automation)
Sales managers and sales reps will both love HubSpot's Deals Pipelines. Deals allows you to track every single deal throughout the entire sales process. You'll never let another sale slip through the cracks again. You can add deals to the deals pipeline with a single click, assign tasks, and even track your track progress in your dashboards.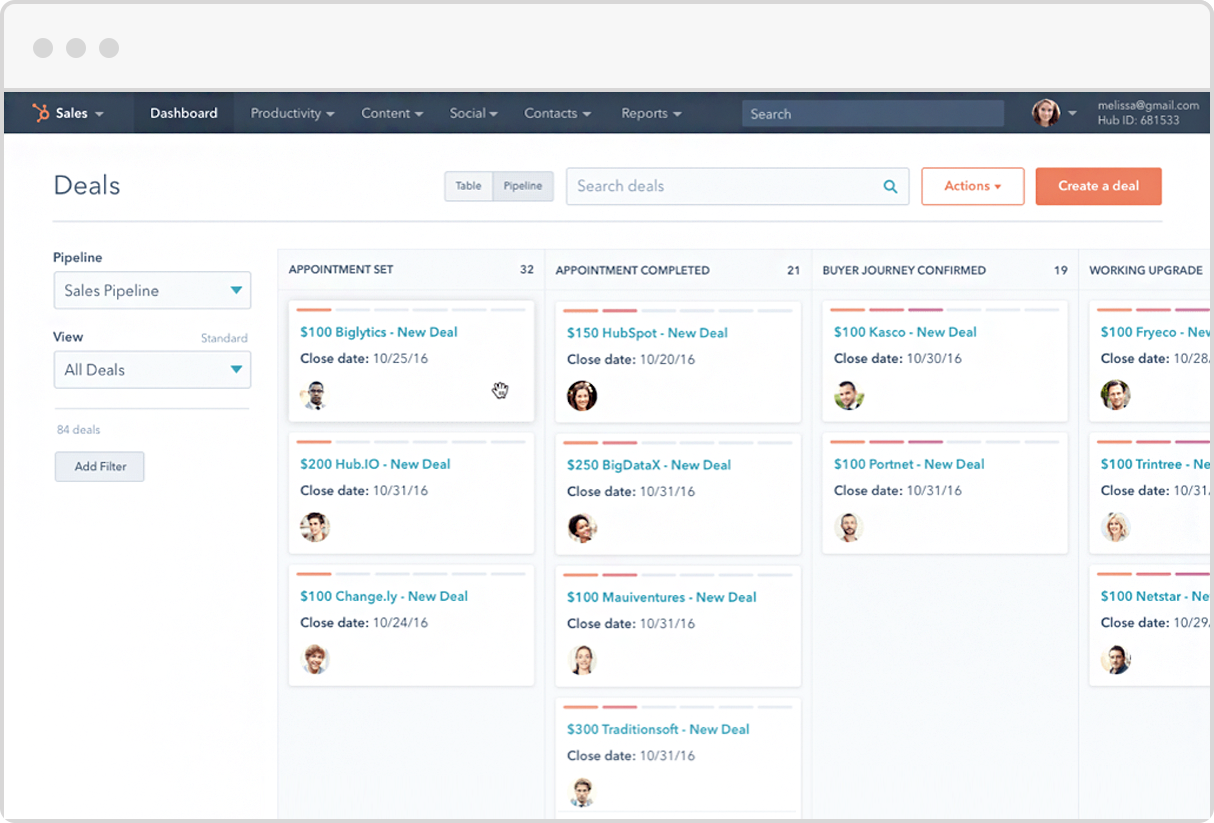 You can customize multiple Deal pipelines to match your different pipelines and exact sales processes, so you'll know the exact status of every sales in real-time. You can even customize the "Win" probability within a percentage point at every stage for more accurate sales revenue predictions.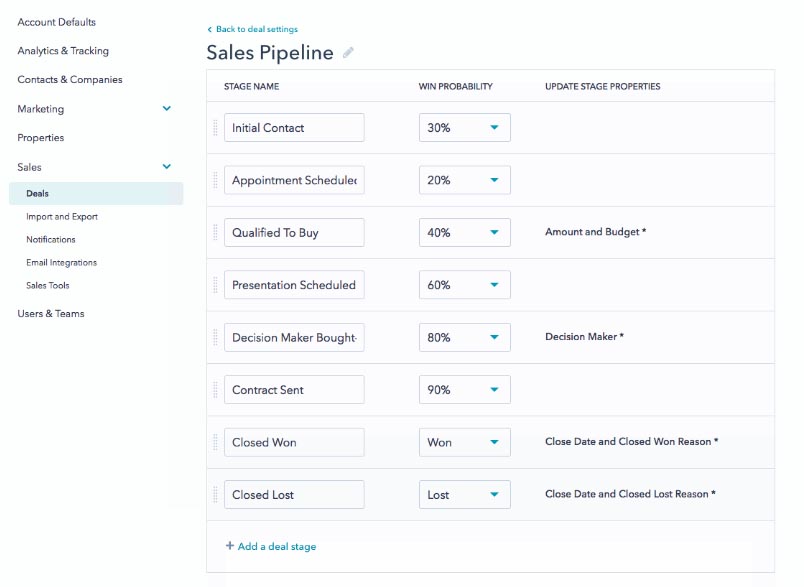 HubSpot's Deals tool even allows you to automate your sales process by triggering actions that need to happen as a sales enters different stages of your Deals pipeline.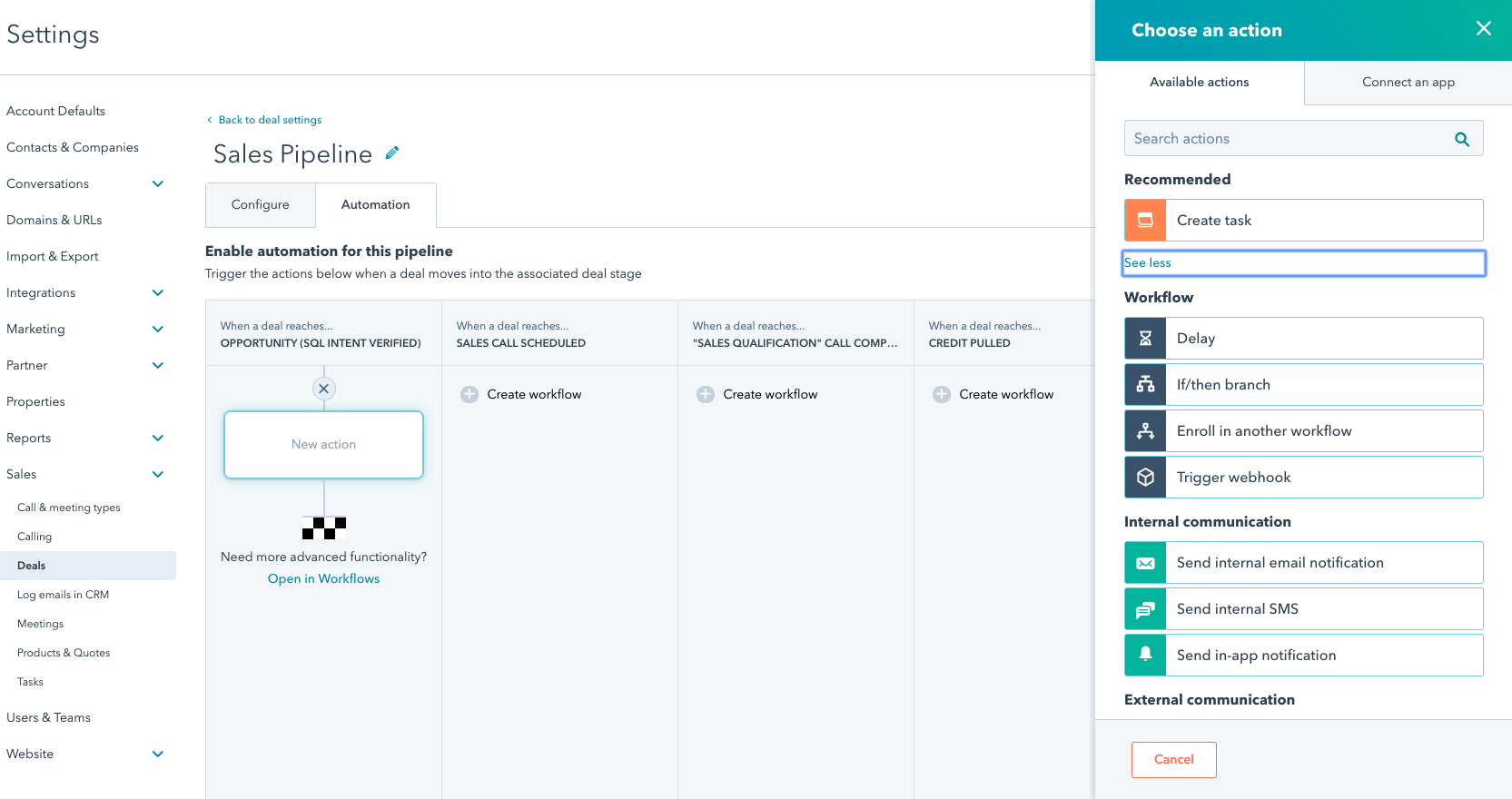 Automate everything from tasks, emails, text messages, deal ownership assignments, and more. You can even trigger automated marketing workflows for NPS surveys, requests for reviews, and retention marketing.
Customizable Report Dashboards
No sales organization should ever be without reports and analytics. After all, "you can't manage what you don't measure".
With HubSpot's integrated Sales Reporting tools you can set up reports and dashboards within minutes. HubSpot Sales dashboards come with prebuilt Sales Performance, Goals, Activity, and Productivity dashboards (view by all, team, or individual).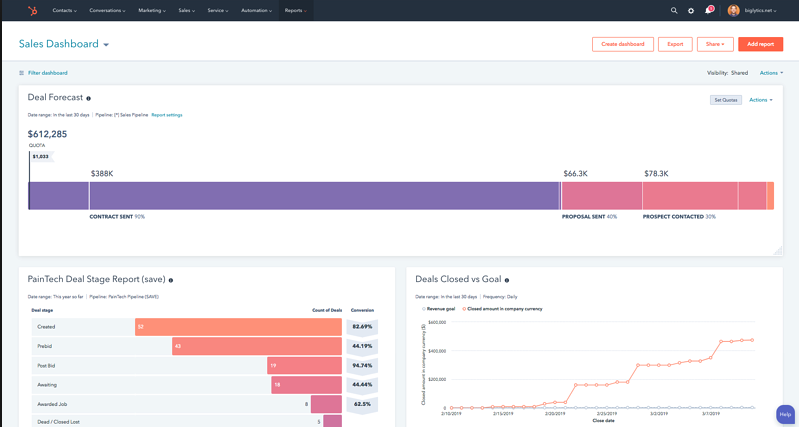 With the HubSpot reports add-on, you can get even more customizable reports, templates, and dashboards sent automatically via email to all of your key stakeholders.
Wait there's more...
Yep, it's true. We still didn't cover all of the amazing Sales Tools available from HubSpot like Products, Quotes, Quote Approvals, E-Signature, Predictive Lead Scoring, Revenue Tracking, and more. Honestly, I think we just ran out of energy writing!
We're going to assume that if you read all the way to the end of this blog then you probably could use some help getting your sales machine built, fired up, and fueled. No worries, that's why we wrote it!
Please feel to reach out to us and schedule a free 30-minute consultation. We're ready when you are!