Create a Roadmap to Predictable Revenue
Vertically Integrated Solutions

for Connected Companies
Our strategic HubSpot-driven solutions empower our clients to connect their teams, streamline their customers' journeys and create actionable roadmaps to predictable revenue and sustainable growth.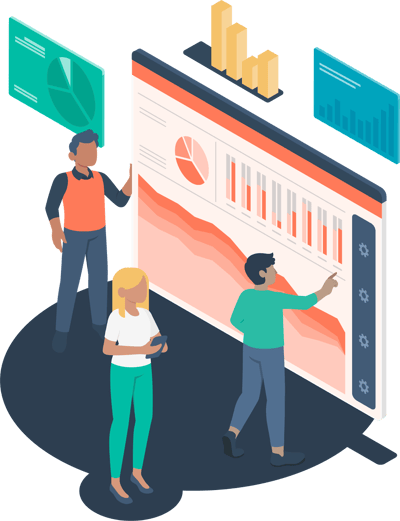 1. ADDRESS IMMEDIATE ORGANIZATIONAL NEEDS
Triage

Collaborate to identify, prioritize and and clear the table of addressable pain points and data issues, serving immediate organizational needs and proactively removing potential barriers to future project success.
2. VISUALIZE A FOUNDATION FOR SUCCESS

Process Architecture Workshops
Align with departmental leadership to strategize and visually map the entirety of your buyers' journeys from lead origination through sales, onboarding, customer success, upsell and renewal processes.


3. DEVELOP SCALABLE EFFICIENCIES

Solutions Engineering
Develop a sustainable data structure and design the systems to support your defined processes at scale, planning the optimal setup of your HubSpot tools to empower teams, ensure adoption and drive business.
4. BUILD A POWERFUL REVENUE MACHINE

HubSpot Implementation
Employ our elegantly designed systems architecture to support complex operations and streamline the HubSpot user experience for maximum business efficiency and minimal friction throughout the customer lifecycle.
5. SUPPORT SEAMLESS CONNECTIVITY

Platform Integrations & APIs
Connect teams with the data and integrated tools they need to meet their potentials, leveraging native HubSpot integrations and custom API development to connect systems and automate processes.
6. ALIGN TEAMS AROUND COMMON GOALS

Adoption & Optimization
Seamlessly transition sales and support teams to the HubSpot platform and their integrated tech stack of tools through live training and ongoing HubSpot support and operational process optimization.
7. ATTRACT, ENGAGE & DELIGHT

Customer Lifecycle Marketing
Compose and manage impactful communications to help customer facing teams generate more closed won deals by sending the right messages via the right channels to properly segmented audiences at the right times in the customer lifecycle.
8. ITERATE ON INSIGHTS FOR MAXIMUM ROI
Revenue Optimization
Leverage actionable data insights into ongoing process improvement, solutions implementation, and business development via ongoing strategic and tactical consulting centered around maximum return on investment.
Ready to Take the First Step? 🌱